OPENBOX : The Art of Wellbeing
Art4d No.277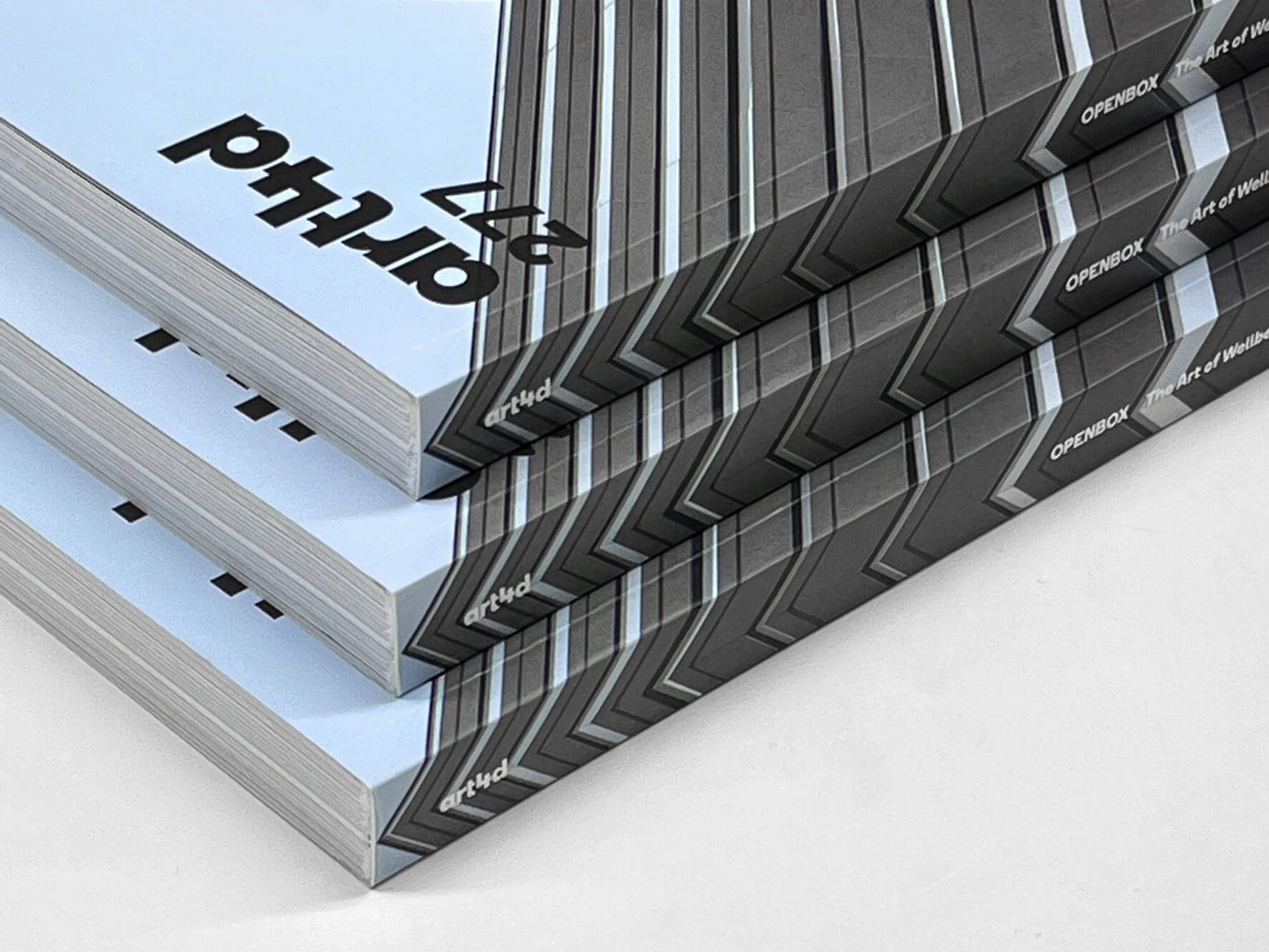 "We always try to draw the first line together" this is the process which Ratiwat and Wannaporn Suwannatrai, an architect and a landscape architect, practice together as Openbox for 17 years. With several turning points of the studio, their practice is now focusing on the fundamental issue of 'wellbeing'.
Now on its 2nd issue, this packed 256 pages art4d Studio Monograph features Openbox's design philosophy through 14 key projects in 3 key sections of Live Work and Play, ranging from Marble House – a house which appears as a hugh piece of carved marble, Saladaeng One – a luxury 'tropical' high-rise to Plearnwan – a mall which became a phenomenon in its glory days. Through these projects, their life and work become more and more inseparated up until the point where, for them, architecture is no longer just a practice, it is the way of life
"เราพยายามเขียนเส้นแรกด้วยกันเสมอ" คือกระบวนการที่ รติวัฒน์ และ วรรณพร สุวรรณไตรย์ ในบทบาทสถาปนิกและภูมิสถาปนิกในนาม Openbox ใช้ในการร่วมกันทำงานตลอดระยะเวลา 17 ปี ของสตูดิโอ ที่ผ่านจุดเปลี่ยนผ่านหลายต่อหลายครั้งจนมาถึงจุดที่ทั้งคู่โฟกัสแน่ชัดไปยังมิติของ Wellbeing หรือสุขภาวะที่ดี
Studio Monograph ลำดับที่ 2 ของ art4d ขนาดความหนา 256 หน้าเล่มนี้ อัดแน่นไปด้วยเรื่องราวของชีวิตและงาน โดยเฉพาะแนวความคิดในการออกแบบผลงานของ Openbox ผ่าน 14 โปรเจ็คต์สำคัญใน 3 หมวดงานคือ Live Work และ Play เช่น บ้านพักอาศัยที่เหมือนเกิดจากการแกะสลักหินอย่าง Marble House, คอนโดมิเนียมหรูในรูปแบบ Tropical High-Rise อย่าง Saladaeng One ไปจนถึงงานมอลล์ระดับปรากฏการณ์อย่างเพลินวาน ซึ่งสะท้อนถึงปรัชญาของการออกแบบของสตูดิโอที่พัฒนาต่อเนื่องจากวันแรก จนถึงวันนี้ที่ทั้งคู่ย้ำกับเราว่าสำหรับพวกเขาแล้ว สถาปัตยกรรมไม่ใช่งานอีกต่อไป แต่มันหมายถึงวิถีชีวิต : Architecture is the Way of Life.
wording by art4d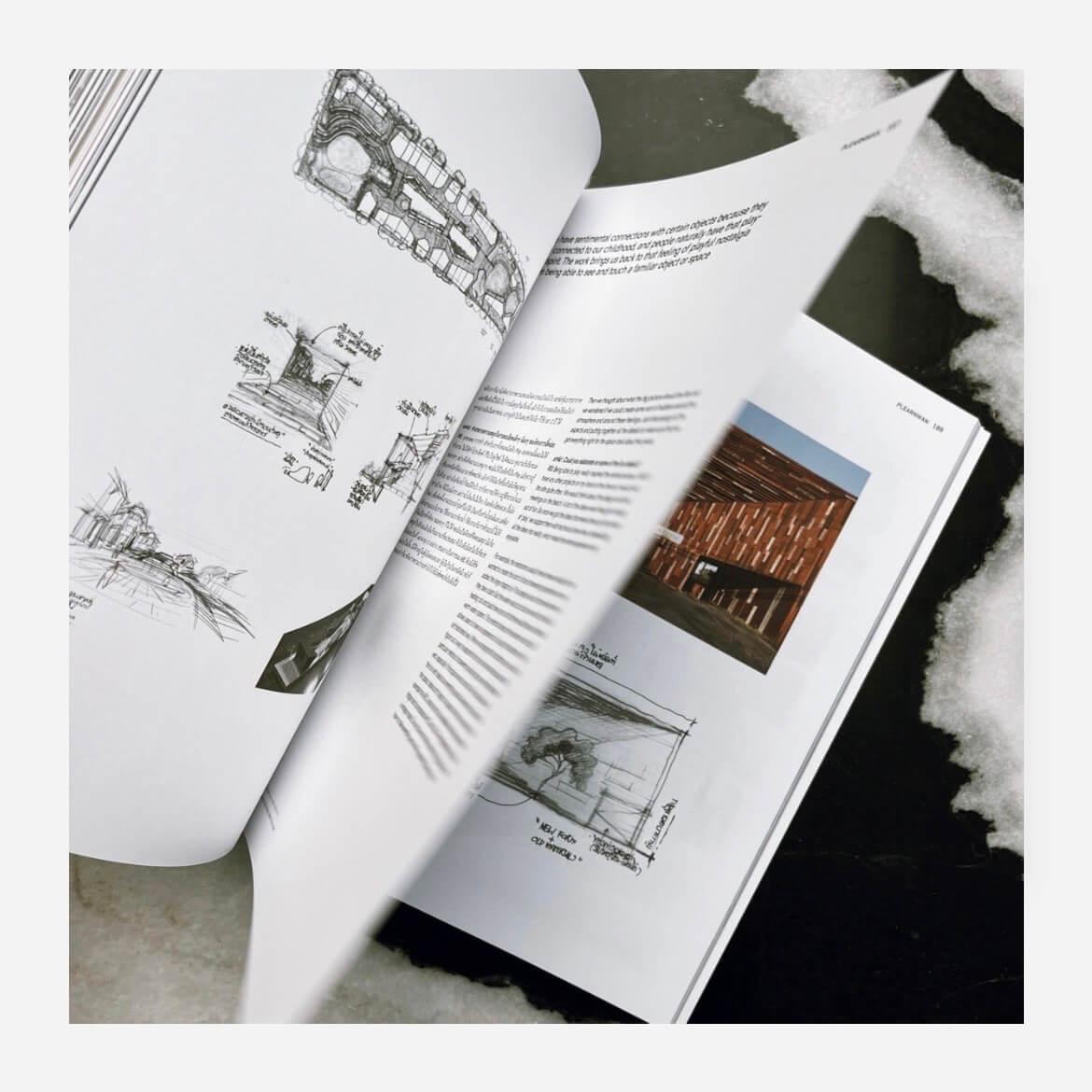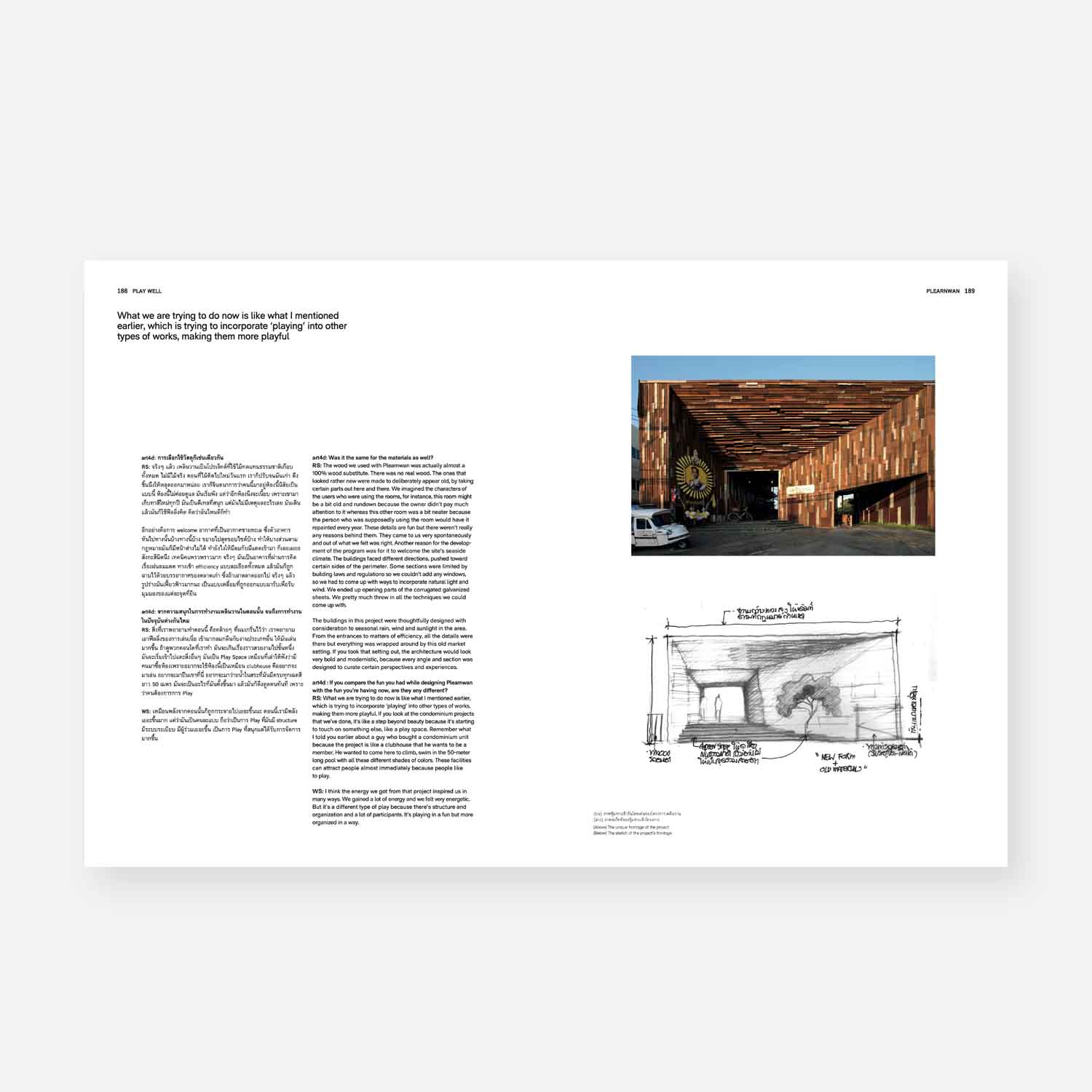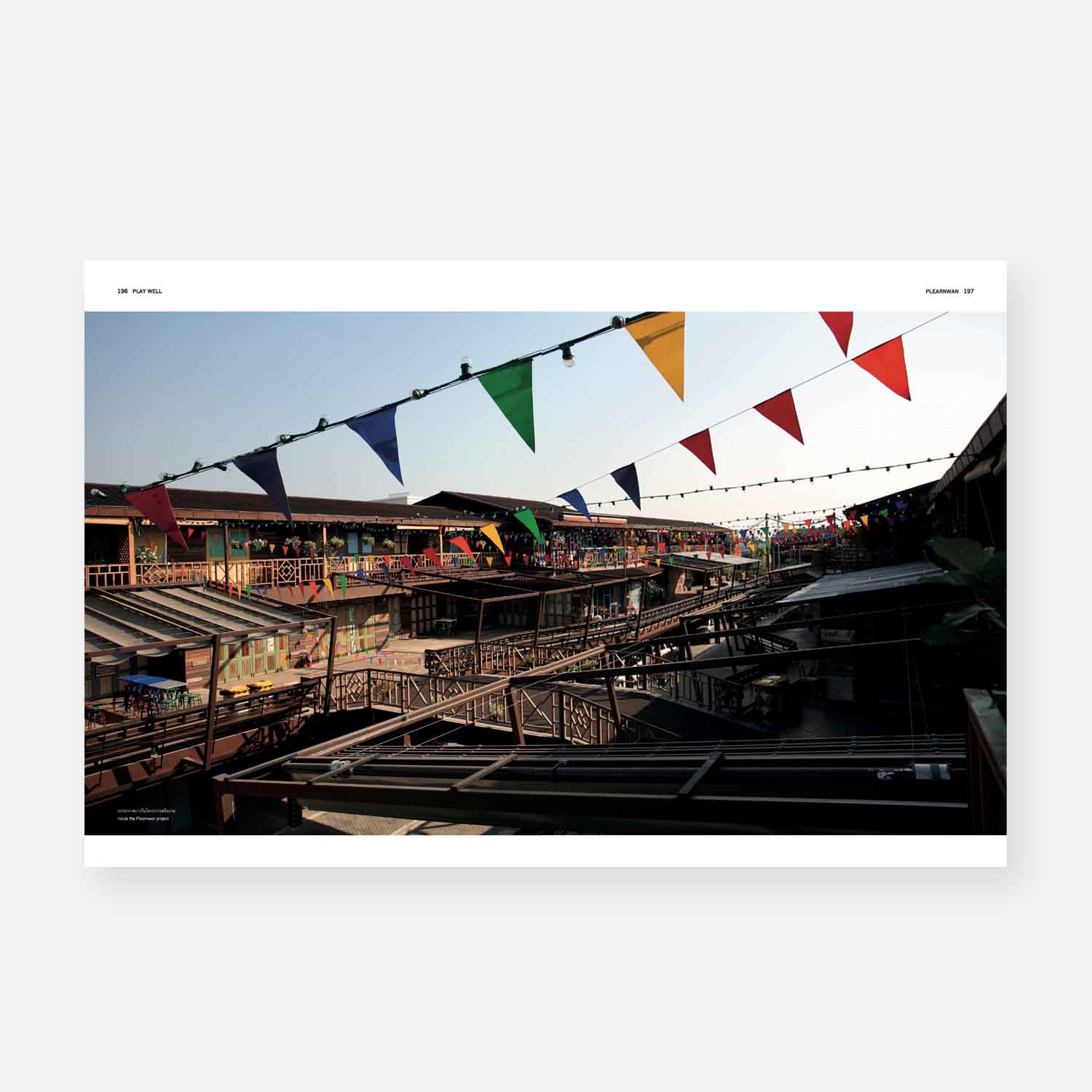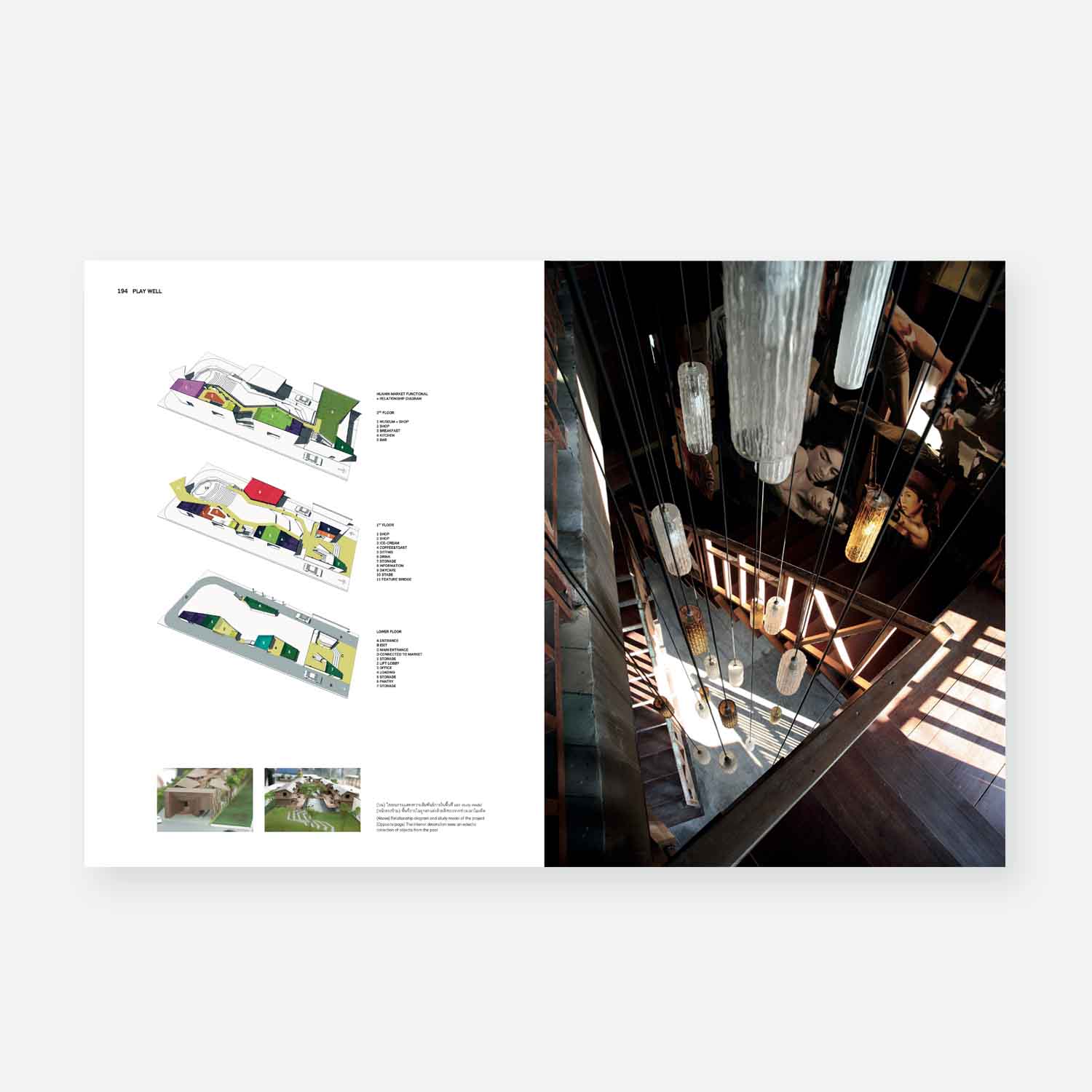 Plearnwan 2010
"Being able to play really inspired the entire process. I didn't have any other projects on my hand at the time so I would visit the site quite often. We would think about the design and had meetings on the beach. A lot of the ideas were thought of solely out of fun. So once we got the ideas that were driven by this notion of 'play', we support them with technical know-how, materializing all the ideas into reality, which made the entire experience very enjoyable.
.For example, the restrooms usually have shower heads but we wanted to create this sort of local showering experience so we added the large dragon jar Thai people use to store water when they take a bath. But the water was too cold so we had to install a heating coil and build new jars so that they would have an internal warm water system. This method keeps the water warm but still allows users to have an experience of using the bathroom in the old-fashioned way. When we designed the bathrooms, we had to figure out a way to separate the dry and wet area because this particular method of showering would get your entire bathroom wet, especially if the space was too small."
"process การทำสำหรับเราทั้งหมดมันคือ Play เลย ตอนนั้นผมไม่ได้ทำงาน ไม่ได้ทำโปรเจ็คต์ ก็รีบไปดูไซต์ ไปคิดแบบ คุยงานกันริมทะเล หลายๆ อย่างจึงคิดมาแบบสนุกๆ พอมันได้ไอเดียที่เป็น Play แล้วความรู้เชิงเทคนิคที่ต้องเอามาซัพพอร์ต แล้วทำให้มันเกิดขึ้นจริงมันก็สนุกตามไปด้วย อย่างในห้องน้ำก็จะมีฝักบัว เราก็อยากจะให้ความรู้สึกอาบน้ำแบบชาวบ้าน ก็มีโอ่งมังกร แต่ว่าน้ำมันเย็นไม่ไหว ก็เลยต้องใส่ขดลวด ปั้นโอ่งใหม่ เพื่อติดตั้งงานระบบน้ำอุ่นที่โอ่งได้ เป็นเครื่องทำน้ำอุ่นนั่นเอง แต่ต้องตักอาบแบบโบราณ วิธีออกแบบห้องน้ำ ก็ต้องรองรับการตักแบบนี้ ไม่ให้มันเปียกทั้งห้อง จะแคบๆ ก็ไม่ได้ พอมันเป็นดีเทลที่คิดตอนสนุก มันก็จะสนุกไปด้วย"
wording by art4d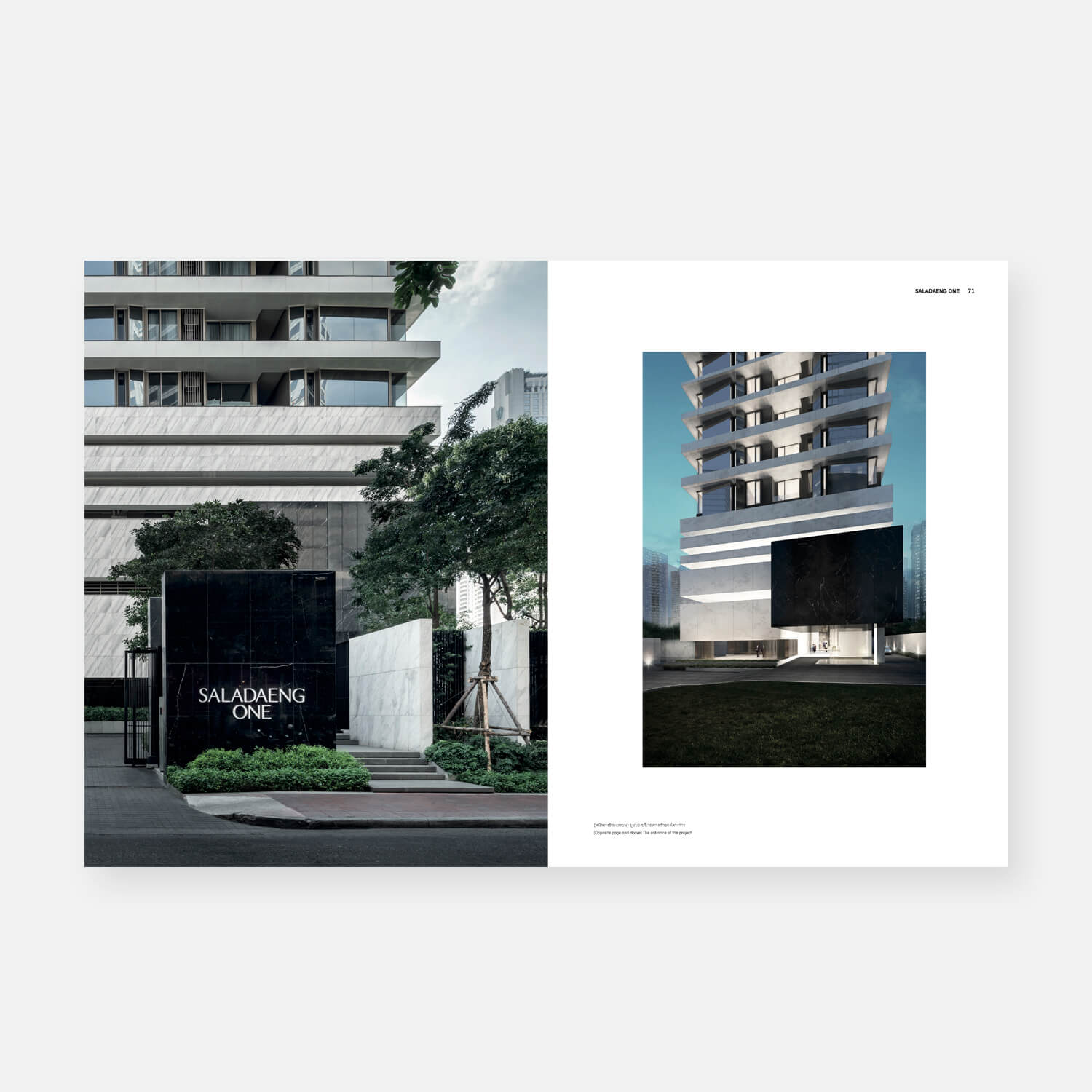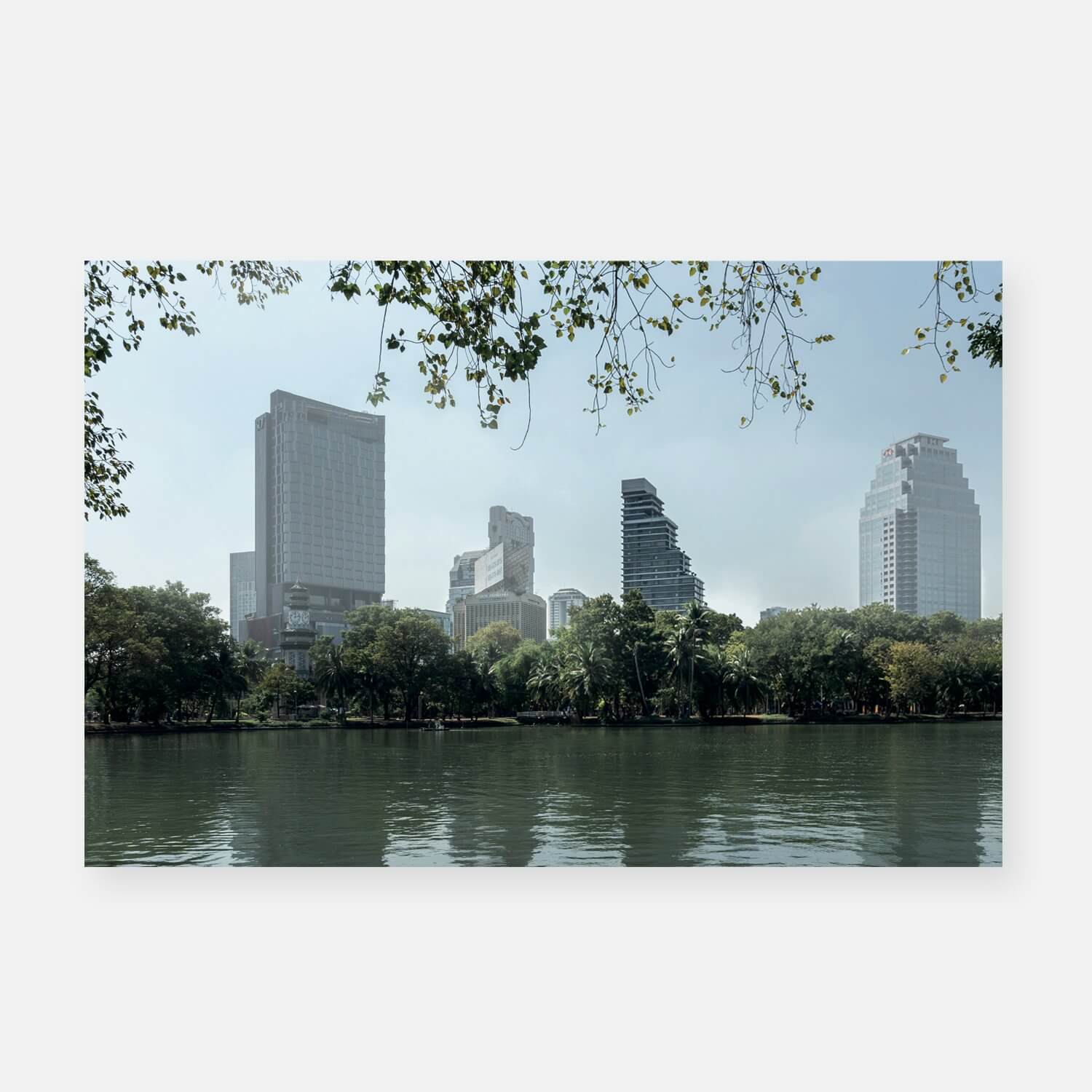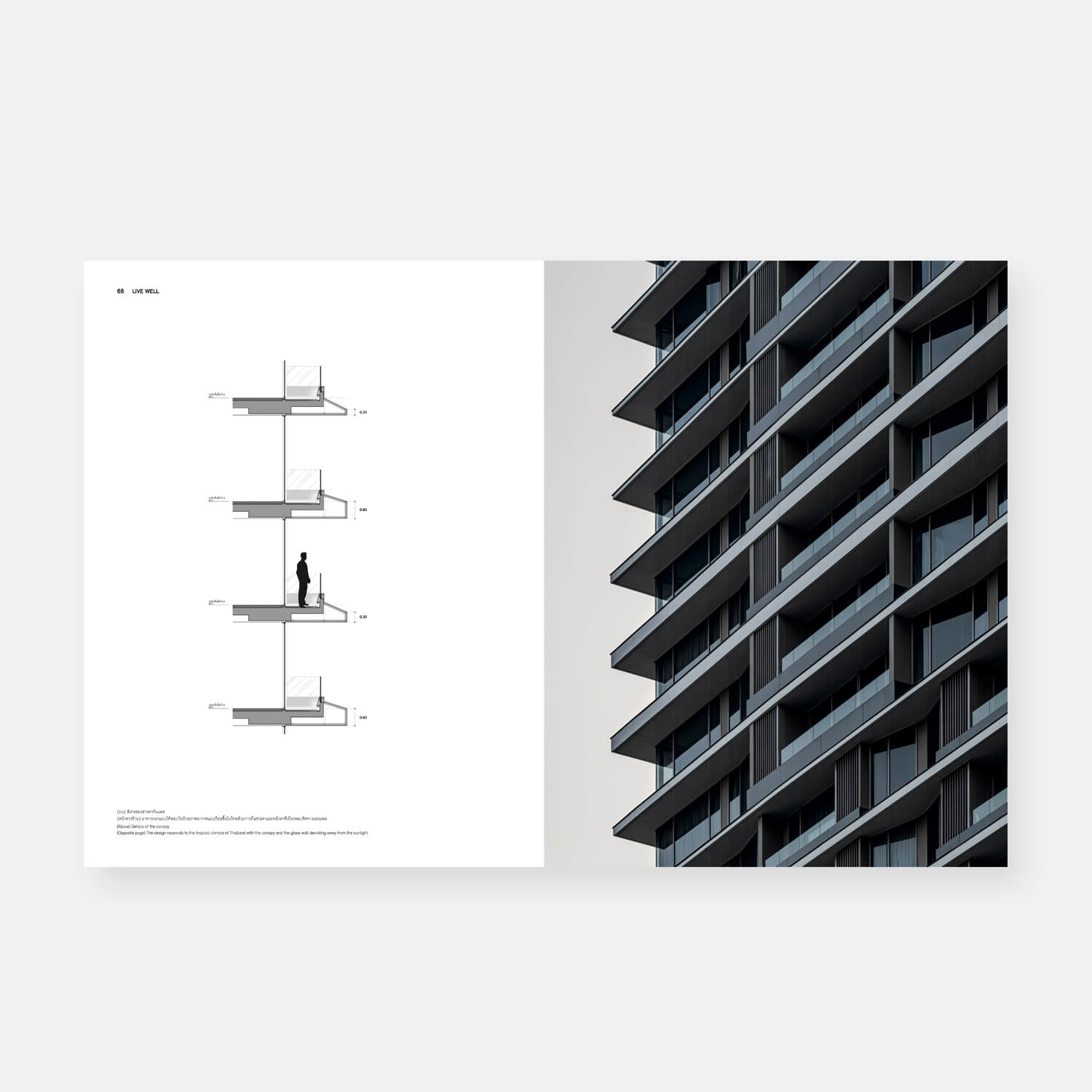 Saladaeng One 2018
"Another thing that makes this project very special to me is how we incorporated the design and decorative elements to the point where the building has developed its own personality. And this isn't just about personality but about its functionality as well. The white lines function as the canopy, making the building an energy-saving building. I dare call it a tropical high-rise because we did a high-rise project located in Bangkok, which is a tropical city. That's why it looks like a tropical building where users can live happily even if it's raining or when the sun is shining. Users are not burdened to run around their homes when the rain is coming to close the windows or take things inside, they can just enjoy every moment, living in this house."
"อีกอย่างที่ทำให้โปรเจ็คต์นี้พิเศษสำหรับผมคือการที่เราใส่ดีไซน์หรือตกแต่งจนตัวตึกมีบุคลิกขึ้นมา มันไม่ใช่การตกแต่งเพื่อให้มีบุคลิกเพียงอย่างเดียว แต่ทุกชิ้นมันมี function เส้นสีขาวๆ ทำหน้าที่เป็นชายคาของอาคาร ทำให้อาคารทั้งหมดเป็นอาคารประหยัดพลังงาน และผมกล้าเรียกว่ามันเป็น tropical high-rise ได้ เราทำ high-rise ที่ตั้งอยู่ในกรุงเทพฯ อยู่ในเมืองที่มีภูมิอากาศร้อนชื้น หน้าตามันจึงออกมาเป็น tropical building ซึ่งสามารถใช้ชีวิตอย่างมีความสุขในบ้านได้แม้ฝนจะตก แดดจะออก ไม่ต้องเป็นภาระในการวิ่งเก็บข้าวของ ปิดหน้าต่าง เวลาฝนตก แต่กลับ enjoy ไปกับมันได้"
wording by art4d